Right, here we go.
GTA Online has finally been detailed by Rockstar and it's already looking like the most exciting addition to the open world genre in years.
Here are 10 reasons GTA Online will blow you away…
10. Content creator
The ultimate customisation tool, GTA Online lets you tinker with creating your own races, multiplayer matches and much more. With players able to share their creations online, as well a steady stream of content from Rockstar itself, this should keep you busy for months.
9. Cribs
The customisation even extends to your own pad. Earn enough money and you'll be able to afford your own apartment complete with garage. You can invite your friends over to hangout or use it as a meeting place. We're already thinking we'll use ours to plan our bank heists, the ones that use helicopters.
8. Earn reputation
By taking on missions – from bank heists, general robberies or even multiplayer matches – you and your Crew will earn Reputation. It's not clear why that's important just yet, but we imagine Rockstar will have some surprises in store those Crews that rise up the ranks.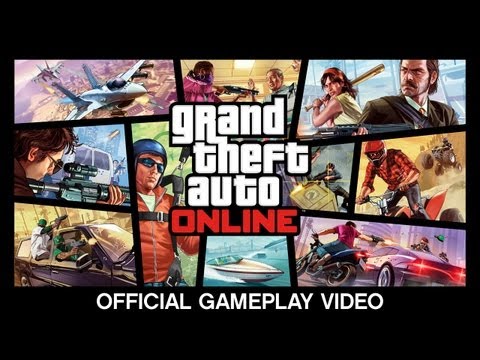 7. Crews
Max Payne 3's Crews return and in GTA Online's persistent world this will become more important than ever before. Your Crew will be able to take on jobs, perform missions and go out into the world to make their mark. Like Red Dead, co-op missions will be central to GTA Online.
6. Customisation
You'll have full control over what your avatar looks like, but GTA Online doesn't just let you change your thier hairstyle. From customising your cars, planes and boats, GTA Online lets you tinker and alter almost everything to allow you to create your own online persona while playing with other people.
5. Persistent character
You won't play as Michael, Trevor or Franklin, but a character of your very own created from scratch. You'll arrive in Los Santos by plane, mingle with the world's characters and begin your new life of crime; it's practically a game of its own.
4. Structured or unstructured?
Part of the beauty of GTA Online is just how much freedom it's going afford players. Sure you can take part in all the structured multiplayer matches, but there's also a ton of stuff you can do just by experimenting within the world. Quad-biking with parachutes to land in the ocean? No problem.
3. Multiplayer
As well as the entire world to explore, GTA Online doesn't scrimp on the older more established multiplayer modes. You'll still be able to jump in and take part in team deathmatch, but with all of GTA's options open to you, expect to see plenty of cars, boats and planes used to try and take you out.
2. Bank Heists
You'll need to earn money if you want to buy things. Holding up liquor stores will get you some small pocket change, but if you want the big bucks, you're going to have to start thinking about holding up some banks. We recommend using helicopters somehow.
1. Shared world
GTA Online is so much more than just a multiplayer add-on. Rockstar is evolving what Red Dead Redemption started with its co-op missions and blowing it up to include the entirety of San Andreas. 16 players can come together to do whatever they want.