American History Xbox
It's all Desmond's fault. Despite protestations to the contrary, we'd pledge good money that, given the chance to restart, Ubisoft Montreal's creative team would quite happily erase him from existence entirely.
Ever since Altaïr set foot in the Holy Land, the true star of Assassin's Creed hasn't been its narrative intrigue, engaging characters or even gameplay mechanics, but rather the chance to walk across history's pages.
To emerge from the Borgia's backstabbing corruption unscathed. To witness first hand the death and rebirth of a mighty empire. To participate in the foul and barbaric persecution of wandering minstrels who just won't bugger off.
Our point is, without the far-fetched sci-fi contrivance at its heart, what exactly would Ubisoft lose? An opportunity to chronologically confuse its players? Bizarre soliloquies delivered through the mists of time by characters aware of their status as a mere avatar? Anyone who persevered with Revelations will likely agree with that one.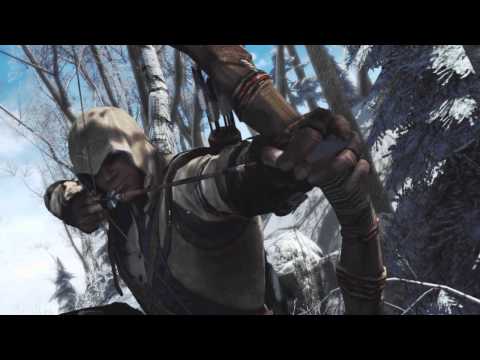 We'd argue that gamers would have more of a stomach for period drama if the answer weren't always the appropriate historical version of "the butler did it". The tale of Connor Kenway, son of a British colonist father and Native American mother during the American Civil War, certainly provides players with a rich historical playground in which to frolic.
There's a sense that what you'll have the opportunity to witness will be the most exciting aspect of the game, despite the addition of freerunning mechanics tailored to a wilderness environment, speedier combat and the chance to hunt down bears.
After all, the series has already tackled open country environments, less built-up settlements and NPC commentary on the wider implications of your actions – and all are still present in an enhanced form here.
The ultimate test will come when those overly familiar salesmen, bustling street children and startled townsfolk come together to form a society that transcends how one man might swing a tomahawk.
Five Reasons Ubisoft Should Leave Desmond Where He Is:
He serves no narrative purpose other than to reminds players the Templars and Assassins are still at war in the future.
We're really sick of hearing Nolan North play the same character over and over and over and over…
Compared to the assassins we're playing as, he's a wimp and a whiny one at that.
Every time we have to play as him, he's stopping us from enjoying the actual game. You know, the bits where you're an assassin?
He's so lame!
In season
The news that changes of season will actually affect the game play directly certainly intrigues us. Winter and autumn missions, for example, will now force our hero to be at a hasty retreat through treetop canopies. When muskets are being shot in Connor's direction, the ground is just too sodden with mud or topped with snow to wade through with speed.
Related Articles
If you liked this article, there's plenty more where that came from. You can download the latest issue of 360 Magazine (also available in all good newsagents) through iTunes to your iPad or iPhone for just £1.99 per issue. Bargain!