Trust me.' It's something that's often asked of us while playing, usually preceding the line, 'I know what I'm doing' and shortly before something explodes. It's also something that's often requested of us unquestioningly as we play.
Modern games have trained us to perform acts (usually of unspeakable violence) without so much as a second thought, and rarely do we ever question this obedient state of mind while playing.
This was put to great effect with BioShock's fantastic 'would you kindly' reveal, but, we've lost count of the number of times we've run headlong into the jaws of death, behind a commanding officer who deemed it a good idea.
Rarely do games ask us to engage with characters on a more fundamental level. Last-gen's The Thing made confident strides to approach trust in new and interesting ways, making fine use of John Carpenter's licence while doing it, but few games have attempted such complex human emotions since.
Binary Domain, though, is putting trust at the heart of its story of replicants in a dystopian future-Tokyo. Sent into the decaying bowels of Japan's capital to deal with the robotic issues arising there, Dan Marshall and his team from the International Rescue Squad will have to work together to survive.
On a basic level, Gears Of War is a clear influence on Binary Domain's moment-to-moment gunplay, appearing practically as a carbon copy. But beyond that it's the trust between us and our squad-mates that influence the way we play, and the way the game reacts to us.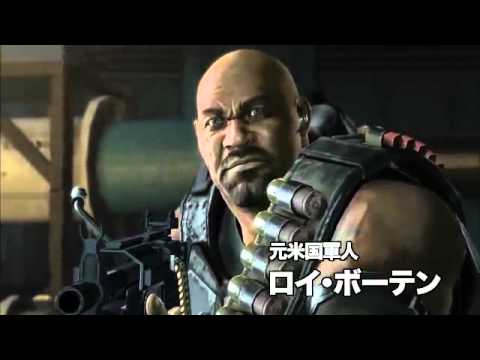 It's something Dom and Marcus clearly took for granted. As well as bringing full voice control to a genre that rarely communicates beyond our trigger finger, Binary Domain enables us to talk directly with our squad.
Using something the developer is calling the 'Consequence' system, the dynamic of our team is ultimately dictated by how trustworthy we are during combat.
Sending troops needlessly into dangerous situations, ignoring orders or conversely accepting orders and failing to follow them through all see the trust drain from our allies. This is visibly represented on screen with a trust gauge; it's perfectly obvious who we've pissed off.
Binary Domain's squad-mates are about to become gaming's prissiest bunch of hard-asses. Health packs and ammo don't come our way any more, and the cheeky banter that continuously occurred during the gunfights of a happier squad are noticeable by their absence.
Keeping everyone on our side is essential if we're to have any chance against the hordes of mechanical monstrosities, too. How far Binary Domain takes this new concept could have the biggest effect on its enjoyment, but the potential is obvious.
The possibility for some trust-straining moments, procedurally created, or enforced by the story, makes Binary Domain one of the more thoughtful shooters to grace the Xbox 360 in 2012.
If you liked this article, there's plenty more where that came from. You can download the latest issue of 360 Magazine (also available in all good newsagents) through iTunes to your iPad or iPhone for just £1.99 per issue. Bargain!