Welcome to the university of hard nocks
The controversy surrounding Lara Croft's new adventure has got many gamers analysing and dissecting her character and what it truly means to play as Lara Croft.
Why did she has become one of the most recognisable videogame characters in history? Not to put too fine a point on it, but the main reason Lara became such a hit was because she was sexy.
Courting controversy isn't a bad start to a reboot, but now that Lara is covered in mud, with bleeding wounds covering her body and facing some overtly dangerous and traumatic situations, has she moved away from the sex object she used to be?
Back in 1996, the original Tomb Raider entered into the public conscious because it presented one of the first female characters unafraid to use her sexuality and physical prowess to get what she wanted. This reboot has very little in common with the Lara Croft we've come to know and love, but is that a bad thing?
Crystal Dynamics' decision to push a younger, vulnerable Lara into dangerous situations has proven to be the most evocative move for the series. And it was a move that was needed.
With Lara learning how to harness her dormant abilities, brutally forced upon her through trauma and truly horrible scenarios, it's difficult to judge how successful it will be at reinventing the Tomb Raider experience without seeing the adventure in its entirety.
Dirty and limping, scared and totally out of her depth; young Lara is about as far removed from her cool and calculating older self as you can get. A re-imagined heroine, riding a wave of pop culture reboots, Crystal Dynamics' new Tomb Raider is a shot in the arm for the series. A bold reinvention that's rewriting Lara's DNA at its most basic level, Tomb Raider is about to take some almighty risks with one of gaming's most recognisable characters.
But it's something that clearly needed doing. Crystal Dynamics has done a fantastic job rebuilding Lara's heritage, after Core Design ploughed it into the ground with Angel Of Darkness, but in many ways, each one of its games has stuck rigidly to the tired formula that made Lara popular way back in 1996. Tomb Raider has been surpassed in spectacular fashion by a whole range of third-person games and instead of competing with them, Crystal Dynamics has made the brave, and rather clever move of reinventing Lara on its own terms.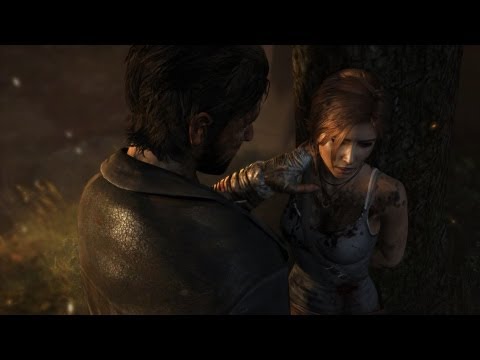 And that's the reason we find Lara, covered in mud and wounds, barely managing to cope with her lethal new surroundings. Watching as she awkwardly takes on a slobbering hound, only just escaping with her life, she clumsily thrusts her knife into its body. Everything is new, and Crystal Dynamics isn't just rebooting the way Lara looks and deals with the situations in front of her. Even the camera angles and the way the action itself is framed have been rethought to present a game that's more survival horror than action platformer.
It's clear much of this reboot has been focused on re-imagining how Lara should look and act in today's world, but without the mysterious island that's putting her through hell, Crystal Dynamics would only have a realistic-looking character model. An island littered with shipwrecks from across the ages, it's a physical Bermuda Triangle and an environmental puzzle that Lara has to piece together (through the learning and mastering of new skills) if she's to survive. And survival is the order of the day, making this the most promising Tomb Raider game in the series' entire history.

Related Articles
Check out the latest issue of X360 for all the big news as well as exclusive content on all the biggest Xbox 360 games. Available on iPad and other digital devices and at all good newsagents!