We could be so pretentious about Brothers: A Tale Of Two Sons.
Like Braid and Limbo before it, Starbreeze's melancholic fairytale occupies that most contested of middle grounds between something that's clearly artistic while also being very gamey at the same time.
We can already see it being held aloft as one of those titles that proves games sometimes can (and should) be considered as art, but as successful as it is at tugging at your heart strings, there's some genuinely clever design at work here.
And it's so very, very sad; like a Brothers Grimm story brought to life, it starts out with death and then never really moves on. There's some dark imagery at work here but there's also a thoughtfulness to the way Starbreeze establishes its characters and fairytale world.
Like we said, you could go overboard with the pretentiousness with Brothers: A Tale Of Two Sons, but whether it actually is art or not isn't the point. It is trying to offer meaningful emotional content and, just like Limbo, it succeeds because it doesn't just shove it down your throat.
Starbreeze's fairytale world has been lovingly crafted and it's testament to the studio's skill that a meaningful and worthwhile game can come in such a small package. This is a short game that doesn't waste any time giving you collectables or any of the other established filler that we're used to. Brothers attempts to do a small number of things, and do them very well. This is a puzzle, platforming adventure that gives you simultaneous control of the titular brothers as they travel through their weird and wonderful world searching for a cure for their ailing father's sickness.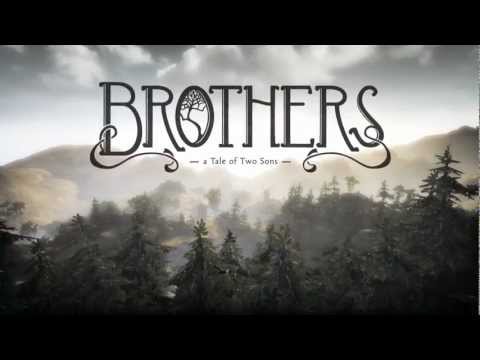 Gameplay is kept simple; the left analogue stick controls the older brother and the right, the younger one. Aside from that each brother has an action button mapped to the corresponding trigger and that's it. Puzzles derive from this simple set-up and there's a surprising amount of joy from exploring each brother's personality. Whatever troubles they come across the brothers instinctively pull together, and understanding how best to use each one in any given situation comes naturally.
Puzzles here are of the logic and logistical variety, forcing you to use each brother's own strengths and weaknesses. These quickly become more complex and eventually evolve into some quite ingenious platforming acrobatics.
It can at times feel like your brain is being ripped in two as controlling each brother with the sticks is no easy task. Taking things slow and steady is necessary, but punishment isn't severe and the checkpointing's forgiving.
In fact, the puzzles themselves, it could be argued at least, aren't that difficult; the journey itself plays a more important role. Regardless of this though, getting the two Brothers to work together is easy and more importantly, it brings them closer together.
Using each one's strengths and weaknesses, which are kept to a minimum, helps to frame their relationship and give the player a knowing nod whenever you manage to figure something out.
You'll rarely (if ever) find yourself stuck on a particular problem and maintaining momentum has obviously been important; perhaps that's why the game is quite so short.
Starbreeze has made it quite obvious that Brothers is intended to be a smaller experience, one where it can experiment and try out things that wouldn't necessarily be possible in a big budget triple-A game and this risk is evident in the world and events that transpire.
These poor boys are put through a lot in the two to three hour playtime, but as much as it works, Starbreeze should have had more confidence in its ability to deliver a game that works on so many levels.
In fact, if Brothers had been a bit longer, it could have spent more time earning its more shocking moments, delivering them with the full weight and emotion that they deserve.
As it stands, the emotional core at the heart of Brothers is subtle enough and it works cohesively with the puzzle elements that when shocking things do happen, the effect is clear.This is successful because Starbreeze shows you its world and characters rather than explaining what's going on in the usual methods.
Cutscenes are used sparingly, dialogue is non-existent, apart from the Sim-ish language the characters use, and like a picture book, it's visually clear what's going on. You don't need much more than that to tell a story and Starbreeze's world comes to life in a hypnotic fashion that's difficult to look away from.
Verdict
Brothers: A Tale Of Two Sons packs a lot into its short playtime but still manages to pack an emotional wallop. With intriguing puzzles and solid gameplay, Starbreeze earns every moment.
8/10