Shoot first, Friend Request later
You've got to feel sorry for Gearbox Software.
While it may seem thrilling to develop a videogame based on the aftermath of one of science fiction's most cherished narratives, developers have spent much of the 360's life reducing most of its constituent parts to banal cliché.
Repeating steel corridors, suspiciously buff space marines, even insectoid enemies have been copied into anonymity; cruelly ripped from the series that perhaps could best lay claim to them. Consequently, a creeping trawl through the wreckage of Hadley's Hope is somehow no longer enough.
Memories of facehuggers embalmed within experimentation tubes cause their movement to elicit merely a 'Meh'. Vents, too, might as well bear signs reading 'Contains One Xenomorph'. In short, every second of gameplay arrives stained with memories of a hundred inferior pretenders.
Yet due to an army of fans that could encircle LV-426, meddling with Aliens' lore also brings potentially devastating consequences. See, Gearbox has been given creative licence to formulate species of its own to sit alongside more iconic forms. Crushers, for instance – crested quadrupeds that add tension to chase sequences by lowering their craniums to the turf and charging at pace. Hardly subtle stuff, of course, but symptomatic of the tension Gearbox feels between replicating their subject material religiously and maintaining a capacity to terrify.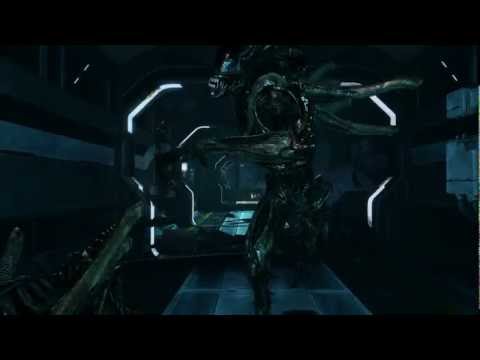 "We certainly want people to be afraid of the Xenomorphs," confirms design director John Mulkey, "and one of the best ways to do that through gameplay is to have enemies that act in ways the player isn't familiar with and doesn't necessarily know how to react to. The variety that the new multiple species bring to the game can be a powerful thing, both in terms of gameplay and tension".
Originally a squad-based shooter, Colonial Marines was streamlined for accessibility, revolving between high-pressure pursuits and 'last stand' horde-style face-offs. Naturally, these take place from a first-person viewpoint, between warehouses full of panicked soldiers and Xenos that use every nook and cranny to gain entry. Automated turrets ripped straight from the Director's Cut lend these sections a degree of strategy, as will the chance for four friends to team up in an attempt to make it out alive. Surely, though, having an irritated Brummie wailing down your lughole about how much of a noob you've been has got to dissipate some of that fear, right?
"Players don't always act in a predictable manner," Mulkey clarifies. 'Especially when you add co-op buddies to the mix, and we want to make sure the game accommodates for that. We're trying to tell a story that covers all the bases. At points, it's all-out action. Other times, it's all about tension and scaring the crap out of people. That sort of thing can be harder to do in co-op because people tend to be more confident in a group, but at the same time, that makes it all the more powerful when the entire group is terrified and starts to lose it." Especially if friendly fire's turned off, eh?
Though Colonial Marines' publicity has generated some disquiet, it's quite possible Colonial Marines is just suffering from Hitman Absolution disease. Namely, the necessity to showcase moments of intense action so Johnny Killstreak will pay attention, when all everybody really wants to know is how terrified we'll be when the motion tracker starts to bleep, when alone. We're guessing the answer is 'very'.
Related Articles
Check out the latest issue of X360 for all the big news as well as exclusive content on all the biggest Xbox 360 games. Available on iPad and other digital devices and at all good newsagents!